Scottish Gaelic –also known as Scots Gaelic or Gàidhlig— is experiencing an increase in its number of speakers, especially among young people. The decline previously seen has almost stabilised now, which is very encouraging having in mind its status of minority and endangered language.
When I was visiting Scotland on my last holidays, I was desperate to find a Gaelic speaker who could help me on my learning of the language. I bought a couple of books to do so, but I needed someone with whom I could check my pronunciation.
In Glasgow, people kept on telling me that no one there actually spoke Gaelic. Same thing happened in Edinburgh. Despite my best efforts, I was unsuccessful. So I concluded that Gaelic was only spoken in the Highlands and the Hebrides, not in the Lowlands, but the truth is that I couldn't have been more mistaken!
In 2015, National Records Scotland published a a map based on the 2011 Census highlighting where Gaelic was being spoken and where it was dying out in Scotland. According to this information, 87,503 people in Scotland had some Gaelic language skills in 2015. The map shows that "Highland, Eilean Siar and Glasgow City have the largest numbers of people with Gaelic language ability."
"Glasgow City?! Are you kidding me??" I couldn't believe it! It's obvious that there's a huge misunderstanding regarding the numbers and locations of Gaelic speakers, even among Scottish people.
It was actually in the Highlands, at the Culloden Battlefield visitor centre, where I met a young man whose mother tongue was Gaelic. He taught me how to use and pronounce some basic greeting phrases. However, at that moment I felt so overwhelmed and puzzled as he was "talking" to me that I couldn't even pay attention to the poor guy, who was wasting his precious time on me. "Gosh," I thought to myself, "this sounds complicated as hell! I'll never be able to articulate a single sentence in this language!"
However, when I –unfortunately– came back to Spain, I decided I would give it a try. "Why not?"
So I started out by googling "Scottish Gaelic free online courses" and found nothing much, but what I did come across was definitely worth.
The following is a list of Scottish Gaelic free courses and other useful resources that you might find interesting. I've tried every single one of them, and I can tell I have learned a lot! Disclamer: I'm a beginner in the learning of Gaelic. This is just my experience and what has worked well for me so far.
So let's get started with the courses recommendations!
LearnGaelic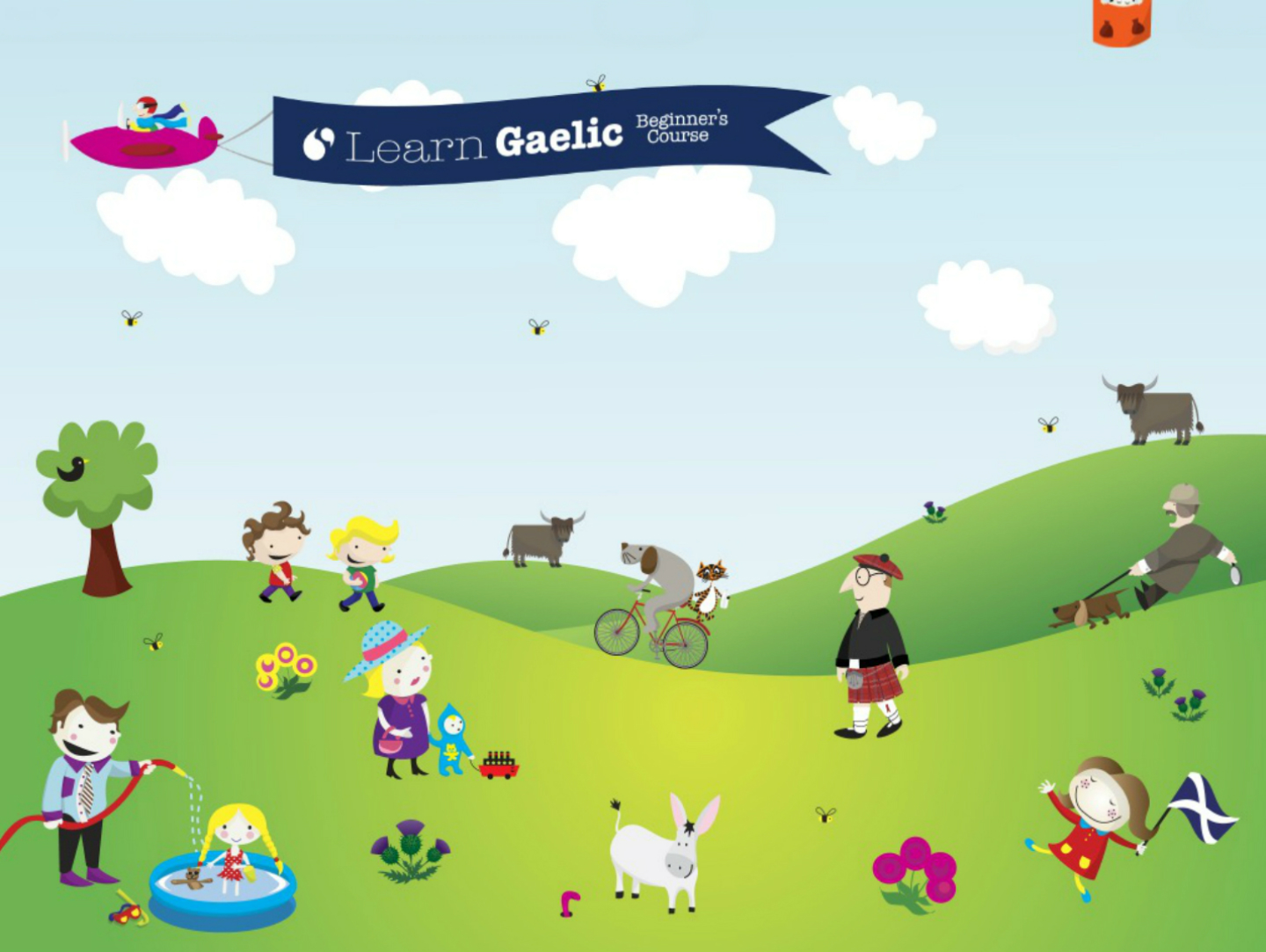 LearnGaelic is a language learning website plenty of useful resources that will help you learn Scottish Gaelic, whatever level you are at, whatever age you are.
If you don't know a single word of Gaelic, don't worry: the LearnGaelic Beginners' Course will help you learn the language from scratch with 60 fun, interactive free lessons plus their corresponding quizzes.
On the Watch Gaelic section, you can choose from a variety of video categories such as News, History, Documentaries, Entertainment and Food. Also, there you'll find 18 episodes of Speaking Our Language (1993) TV series, each accompanied by its respective transcription and translation in English, and organised by level of difficulty: beginner, intermediate and advanced.
There are also a dictionary and a thesaurus, very helpful and suitable for anyone with an interest in Gaelic.
Mango Languages
As I said above, I've tried all the courses and resources listed on this post, and all of them are really good indeed. But, for me, this is definitely my favourite.
Mango Languages is an online language learning website for organisations and individuals, where you can learn to speak some endangered languages: Cherokee, Yiddish, Dzongkha, Tuvan and, of course, Scottish Gaelic.
The course on Gaelic consists of 10 extensive chapters, which cover a wide range of topics such as greetings, introductions, getting around, shopping, drinking and dining, using transportation means, etc. Each chapter contains easy to understand grammar explanations.
Memrise
If you're keen on languages, you'd probably know Memrise. It's a free online learning tool with friendly courses created by its community, especially focused on language teaching.
There's an endless list of Scottish Gaelic courses on Memrise that can help you learn fast with fun flashcards.
Beag Air Bheag
Beag Air Bheag –literally meaning "little by little"– is an initiative by BBC Alba aimed for you to learn Gaelic at your own pace through 35 units for absolute beginners. It also contains helpful sections on grammar, pronunciation and further resources, and a phrasebook with the most basic phrases of the language.
Polymath
On Polymath you can learn tones of languages –including Gaelic– through lessons, vocabulary, phrases and grammar.
Here is a list of the lessons Polymath offers: Greetings, Colors, Family, Body, Time, Clothes, Food, Fruits, Animals, Mistakes, Shopping, Restaurant, Travel, Survival, Directions, Weather, Languages, Nationalities, Countries, School, House, Places, Objects, Phrases, Alphabet, Numbers, Adjectives, Adverbs, Plural, Gender, Pronouns, Articles, Questions, Verbs, Present, Past, Future, Prepositions, Negation, Imperative, Comparative, and much more.
Pretty long, right?!
Transparent Language Online
Transparent Language Online is another great language-learning website which offers a 14-day trial account. You can either try the Learning Scottish Gaelic for English Speakers course or any other that suits you best. There's plenty of languages to choose from.
Gaelic in Modern Scotland (MOOC)
Gaelic in Modern Scotland isn't actually a course to learn the language. It's an introductory, self-paced MOOC (Massive Online Open Course) in English by The Open University, "intended for people with a personal or professional interest in increasing their knowledge and understanding of the development and impact of Scottish Gaelic and its culture." The course is also available in Gaelic, and the required hours to complete it are 15.
Language Exchange Communities
When you already know some basic phrases in Gaelic, why don't practise with a native speaker? You can choose from a wide range of language exchange communities to do so (and they're free!). These are my favourite:
YouTube Channels
Pàrlamaid na Gàidhlig
On Pàrlamaid na Gàidhlig you will find two of the most popular TV series to learn Gaelic from scratch: Can Seo (1979) and, once again, Speaking Our Language (1993).
Leah
Leah joined the #Add1Challenge to learn Gaelic in order to hold a conversation with a native speaker in just… 90 days! Can you believe it?! I love challenges and think I'll give it a try too!
She hasn't uploaded many videos on her channel yet, but at least you can find some inspiration and motivation there indeed!
Scottish Gaelic Online Dictionaries
To conclude, I want to remark that Scottish Gaelic is not that difficult to learn, you know? I reckon the most difficult parts of it are learning how to pronounce the words –you can check how words are pronounced on Forvo— and the sometimes tricky grammar. However, as any language, being very keen on learning it will make things easier.
I also recommend you Everyday Gaelic by Morag MacNeill, a useful book with basic words and phrases, ideal for beginners. [Note: This is an affiliate link. You can read my disclosure by clicking here.]
So I really, really hope you'll find this resources as helpful as I did. Scottish Gaelic is definitely a language that deserves to be learned –and spoken!– in order to keep it alive.
Happy learning! 🙂
Featured image: © Antonio
Save
Save
Save
Save
Save
Save
Save
Save
Save